Tony Diamantidis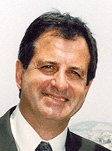 Tony Diamantidis is Executive Director of the Athens 2004 Environmental Foundation (AEF). Mr. Diamantidis is the founder of Chemical Safety Corporation, an environmental management computer technology company based in the United States and Greece. He has served in senior environmental technology capacities in both public and corporate entities worldwide, including the US EPA, the University of California and the US Departments of Justice, Defense and Energy. He has advised numerous organizing committees and sports related organizations and has led environmental management systems development efforts for many entities.
Born and raised in Athens, Greece, he has always been involved in athletics and dreamed of being an Olympian. He currently coaches several youth soccer teams. His personal and professional commitment to sports and the environment, and his love for the Olympics have been the driving forces for establishing AEF. Mr. Diamantidis holds an MBA from St. Mary's College in California, a BA in English/Communications from Columbia University in New York and an AAS degree in Computer Science from Pace University in New York.
Elvira Bazaca
From 1996-2001 Ms Bazaca was the Head of the Waste Management Division of the Greek General Chemical State laboratory. From 1994-1996 she worked for the European Commission as the Coordinator for the development of testing methods to ensure legislated criteria for the effects of chemicals on human health and the environment. Prior to this, she worked again at the General Chemical State Laboratory in the Division of Environment, developing criteria for legislative purposes pertaining to Environmental Pollution control.
Among her many professional publications are articles and documents on industrial air and water pollution, pollution in the Athens, Ptolemais, Thessaloniki and Attica regions, a techno-economic study of reducing pollution emissions, social aspects and history of pollution, impact of pollution on children in Greece, and food contamination through environmental pathways.
Ms Bazaca is a frequent lecturer on environmental pollution problems to the European Commission, many university postgraduate courses and in government and public forums. She was the supervisor on numerous research projects of the Greek Secretariat for Research and Development and the European Commission in the field of the environment, and is a member of the scientific panel for evaluation of research proposals relating to the environment, as well as a member of organizing and scientific committees for numerous Greek and International conferences on environmental subjects.
Ms Bazaca earned a BSc in Chemistry from the University of Thessaloniki, and a PhD in Public Health Engineering from the University of London (Imperial College).
Jean-Michel Cousteau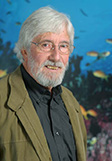 Explorer, environmentalist, educator, film producer: for more than four decades Jean-Michel Cousteau has used his vast and varied experiences to communicate to people of all nations and generations his love and concern for our water planet.
The son of ocean explorer Jacques Cousteau, Jean-Michel spent much of his life with his family exploring the world's oceans aboard the research vessels Calypso and Alcyone. After his mother's death in 1990 and his father's in 1997, Jean-Michel founded Ocean Futures Society in 1999 to carry on this pioneering work. Responding to his father's call to 'carry forward the flame of his faith,' Jean-Michel's Ocean Futures Society, a non-profit marine conservation and education organization, serves as a 'Voice for the Ocean' by developing marine education programs, conducting research, and fostering a conservation ethic.
Jean-Michel serves as an impassioned, eloquent spokesman and diplomat for the environment, reaching out to the public through a variety of media. He has produced over 70 films, and been awarded the Emmy, the prestigious Peabody Award, the 7 d'Or – the French equivalent of the Emmy, and the Cable Ace Award.
A Voice for the Ocean. Today, as President of Ocean Futures Society, Jean-Michel travels the globe educating young people, documenting stories of change and hope, and meeting with world leaders and policymakers, both at the grassroots level and the highest echelons of government and business, where his reputation helps energize alliances for positive change.
Margaret O'Donnell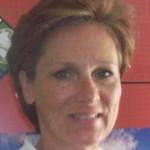 Margaret O'Donnell, a founding member of the Athens Environmental Foundation, is president of Chemical Safety Corporation. Chemical Safety Corporation designs environmental, health and safety compliance software and systems for large corporate organizations, public facilities including universities, and governments in North America and the European Union. Ms. O'Donnell joined Chemical Safety in 1990 and in 1994 became president of the organization.
She has worked extensively in the environmental technology field and values pragmatic and results-oriented solutions to environmental issues. Ms. O'Donnell has worked as an advocate for many organizations in Wisconsin and California particularly non-profit groups and has received awards and recognition for her work and community service. She has worked for over 20 years on childhood education issues and is an advocate for women and children where underrepresented in the political arena. As a volunteer at her local schools, Ms. O'Donnell created an opportunity to bring school children, teachers and Olympians together to discuss care of the environment as well as the excitement of sport and peaceful competition. She is working on the new AEF program to train world Olympians to be ambassadors to the world's children about caring for the environment and at the same time inspire children to achieve their dreams as these Olympians have. Ms. O'Donnell holds a B.A. in Communication from the University of Wisconsin, Stevens Point and did her graduate work at San Francisco State University. A Chicago native, Ms. O'Donnell lives in California with her family.
Michael Voudouris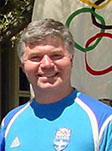 Michael P. Voudouris is an Olympian who represented Greece at the Salt Lake 2002 Games in the sport of Skeleton and is an international member of the World Olympians Association (WOA).
He has been a Photojournalist for 22 years and is a member of the Association International de la Presse Sportive (AIPS), National Press Photographers Association (NPPA), and the National Sportscasters and Sportswriters Association (NSSA).
Mr Voudouris has been an Emergency Medical Technician for 22 years. He is a member of the New York State Volunteer Ambulance and Rescue Association (NYSVARA).
He is a recipient of the AHEPA Medal of Freedom (2002), in tribute for New York City, 9-11 related services as a public safety official and was recognized by the Federation of Hellenic Societies of Greater New York as an Honored Guest during their annual Independence Day Parade activities.